Hey Tampa Bay, Alex here to tell you about a fun way for the whole family to enjoy some of Tampa's beautiful weather.
On March 19, The Tampa Mayor's Cup Regatta is being held at the Tampa Bay Bypass Canal. 
This regatta is one of the preeminent early-season rowing events, featuring many athletes and top crews from around the country.  
What better way to spend your Saturday,  than to take the family outside to watch crews take part in some intense competition on the water?
Over 750 rowin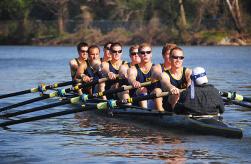 g athletes and over 2,000 spectators and coaches will be on-hand to participate in this event, which includes separate events for Masters, Colleges and Junior-level athletes. 
Tampa's junior programs from The Stewards Foundation, Hillsborough High School, Tampa Prep, Berkeley Prep, Tampa Catholic and the Academy of Holy Names will match blades with high schools such as Edgewater High School, Orlando and perennial powerhouses such as The Kent School, Conn, and Newman School, Mass.
This year's Regatta will Feature a special Masters event named in honor of Admiral Lee Roy Collins. Admiral Collins was a participant for The Tampa Rowing Club since the Regatta's inception. Admiral Collins died in a bicycling accident on his way to Rowing practice this past year.
While the race is free for spectators, sponsorship proceeds go to the Stewards Foundation, which supports youth programs open to any high school student who has no access to a program at their school, as well as inner-city summer youth programs coordinated through the City of Tampa Parks Department.   
For additional information on this year's Mayor's Cup Regatta, visit
www.RowTampa.com.
Check back with us often to find out infromation on Things To Do In Tampa Bay