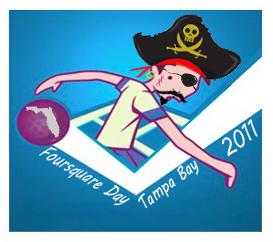 Hey there folks! Jerm here to talk to you about one of my favorite annual events coming up this Friday and one of many ways the
City of Tampa
will celebrate it!
Mayor Bob Buckhorn will sign a proclamation naming the Foursquare Mayor of Tampa in honor of
Foursquare Day
.  The event will take place at the
Sail Pavilion on the Riverwalk
at
Tampa Convention Center
on Saturday, April 16, 2011 at 2:04 p.m. 
Now of course there are some details associated with this you have to follow in order be the new Mayor. To be proclaimed the Foursquare Mayor and receive the proclamation, the person must be the
reigning mayor of Sail Pavilion on the Riverwalk at 2:04 p.m.
on Foursquare Day.  So that means if you are not the Mayor now, then you had better start checking in so that you can unseat the current Mayor, who just happens to be
City Bike Tampa
!
Mayor Buckhorn will be on hand to sign and present the proclamation.  The event is being held in celebration of Foursquare Day and to help raise awareness about ways
social marketing can be used to increase business.
  Tools such as Foursquare are not only an easy way to
promote a business
, but it is free, making it an affordable option to add to a marketing program.
Here is a little, or rather big fun fact for ya in that Foursquare Day, started in Tampa by Nate Bonilla-Warford! This grass-roots movement celebrates social media, local communities and businesses!
For more information about Foursquare Day events in Tampa you can visit on-line
http://foursquare.com
.  To become mayor of Sail Pavilion start checking in at
http://foursquare.com/venue/1508957
.
That's all for now folks, but be sure to check back and stay in touch with us as update you more on this leading up to Saturday! Keep following us for more updates on Tampa Bay area events and fun things to do in Tampa Bay!