The dust has settled and the models are in place, the time is finally here! Legoland Florida has finished their newest expansion, Star Wars Miniland. This exciting new area of LEGOLAND is scheduled to open this weekend, November 9.
The new expansion consists of over 1.5 million LEGO bricks and has a total of 2,000 models! Parts of the exhibit were created in LEGO Model Shops in California and Germany and had to be shipped to Florida specifically for this exciting new expansion.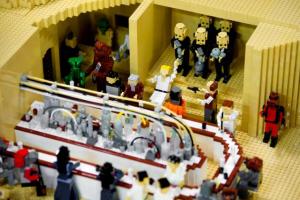 Star wars Miniland will consist of one scene from each of the six Star Wars movies to create the ultimate Star Wars experience for its viewers. Some of these great new models will reach over 6-feet tall and have interactive buttons that will allow its visitors to interact with the exhibit!
If you are looking for the best way to enjoy this great new expansion and see all the other wonders of LEGOLAND then the Florida Resident Pass is for you.
This pass will give you unlimited access to LEGOLAND Florida and LEGOLAND Water Park (that's right they have a water park as well!).
Along with this 12 month pass you will also be granted access to other Merlin attractions including California & Water Park, LEGOLAND Discovery Centers, Sea Life Centers and Madame Tussauds and many more benefits included. If a yearlong commitment isn't right for you, tickets are also available online at www.legoland.com. Also be sure to check out our LEGOLAND Florida Family Vacation Package
Have a great time checking out this new expansion at LEGOLAND Florida and may the force be with you! That's it for now, but be sure to check back for more updates on things to do in Tampa Bay!