Hey guys Jerm here with today's giveaway! You just never know when we are gonna have tickets to amazing events like when we have two Grammy award winning artists on display at the
St. Pete Times Forum
!
If you didn't catch
my post yesterday
, once again shame on you for not checking with us on a regular basis, and here is the deal!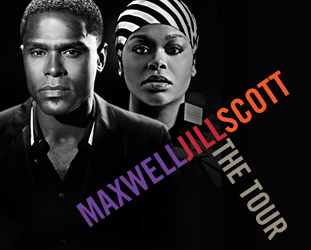 I have two sets of 4 tickets to give away today for the
Maxwell and Jill Scott concert
tonight at the St. Pete Times Forum at 7pm! Nice huh!
Here is a refresher on the way the giveaway will work. Instead of re-tweeting like I used to make you do, just answer the question on
Twitter
and
Facebook
.
Once you do that you will be entered in to win, as we will randomly draw.
For those of you playing on Twitter and who choose to re-tweet, it does indeed increase your chances of winning.
I draw names from the first 10 correct answers, so make sure you get the correct answer to play! Around 2pm, I will announce the winners! Let's hop right into it! All I need you to do is answer two questions about Maxwell and Jill Scott. I promise I won't try and stump you today so don't worry
We all know him by his mononym "Maxwell," but what is his full given name?
A two time Grammy award winning artist, Jill Scott was awarded the her first Grammy award in 2005 when she won the for "Best Urban/Alternative R&B Performance." Name the song/performance for which she won that award.
Okay guys, those are pretty easy ones, so be sure to play along and you will have a chance to see these two tremendous performers live tonight at the St. Pete Times Forum.
If you are playing on
Twitter
, just reply to us with the answer, and if you are on
Facebook
, just reply to the post link thread with your answer!
Stay tuned in for more fun giveaways and Tampa Bay area events, and things to do in Tampa Bay!