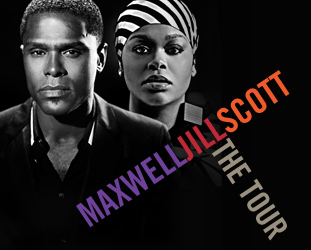 Hey guys, Jerm here with another update for you on a last minute giveaway!
If you hadn't heard, tomorrow night at the
St Pete Times Forum
, two Grammy Award winning artists will descend upon the Tampa Bay area!
Maxwell and Jill Scott, two of soul music's brightest stars, will take the stage at the St. Pete Times Forum on Tuesday, June 15 at 7:00 p.m., and of course we have tickets for you and will be doing two giveaways tomorrow from 10am - 2pm!
We'll be giving away two four-packs of tickets on
Twitter
tomorrow as well as two four-packs on
Facebook
! In order to have a chance to win these tickets, you just have to follow two simple steps!
You have to be followers/fans of us on Twitter and Facebook...
Answer 2 questions about Maxwell and Jill Scott...
Tomorrow at 10.a.m. I will post the link to this blog post with the trivia question and all you have to do is reply back with the answer on Twitter, or on Facebook! I will draw names from the first 10 correct answers on each, so make sure you get it right!
Seeing as the concert is the same day, this is gonna be a quick one, so you have to be sure to get your answer in before 2pm as that is when we draw the names of the winners!
Okay, that's all for now folks, so check back tomorrow around 10 so you can play along with us! Be sure to always check back with us for cool updates, giveaways, and things to do in Tampa Bay!