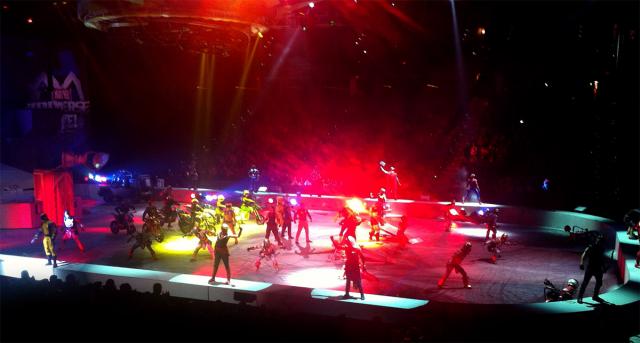 Marvel's most notorious villains are invading Tampa Bay as Marvel Universe Live! kicks off its national tour, this weekend, at the Tampa Bay Times Forum.
While Tampa Bay is no stranger to invaders, Marvel's sinister foes require some heroic intervention--the likes of Iron Man, Spider-man, Wolverine and the Incredible Hulk--to save the day.
Part live action stunt show, part comic book fantasy, Marvel Universe Live! begins when Thor antagonist Loki creates a Cosmic Cube capable of obliterating Earth. When the agents of good discover Loki's newfound power, they set out to foil his evil intentions. Fans of Marvel's movie franchises will instantly recognize the band of heroes fighting to protect Earth, but the heroic teams are unlike anything we've seen on the silver screen.  Interesting and unique pairings such as Spider-man and Iron Man, Wolverine and Bruce Banner result in humorous dialog sequences and action-packed melees.
In development for two years, the special effects, acrobatics and story in Marvel Universe Live! are indicative of the creativity and training required to bring the production to life. From aerial battles to motorbike stunts, elaborate sets to booming explosions, the show has everything you'd expect to see in the panels of a Marvel comic book.
Marvel Universe Live! has seven showings in Tampa, starting this Thursday, July 10 at 7 p.m. and running through Sunday, July 13. Tickets are available on Ticketmaster.com (http://www.ticketmaster.com/Marvel-Universe-LIVE-tickets/artist/1936934) and at the Times Forum's box office. If you've ever dreamed of seeing an 8-foot tall Hulk in person, this is your chance!
- Rich Alot
Visit Tampa Bay, Digital Marketing