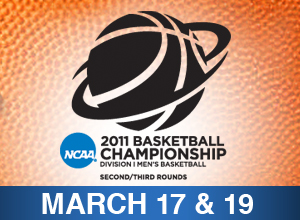 Hey folks! Jerm here with a very exciting update on the Tampa Bay Sports scene!
If you didn't already know, the NCAA Men's Basketball Second rounds will be played this week on March 17 & 19 at the St Pete Times Forum right here in Tampa Bay!
The University of South Florida will be the host and fans can begin
purchasing their tickets
for the event now!


Tickets for all six games on March 17 and March 19, 2011 are $231, which include the two sessions on Thursday and one session on Saturday.
Some of the
match-ups this year are going to be epic
, as top programs like Michigan State, UCLA, Kentucky, and the University of Florida will all be traveling here with the hopes of moving on to the next round!
Stay tuned in for more updates throughout the week, and for those of you who haven't done so, be sure to start
booking your travel arrangements now
! That's it for now, but we'll be back later this week with news on NCAA Basketball related Tampa Bay area events!