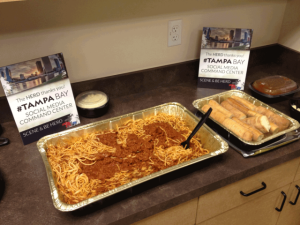 It was dinner time last night at the Social Media Command Center, and boy were we hungry!
You'd be surprised how much of an appetite you can round up when having thousands of conversations online about what a great destination Tampa Bay is!
Last night dinner here was served by the fine folks at Maggiano's Little Italy, over in the beautiful westshore district, and trust me nothing says full stomach like delicious Spaghetti with meat sauce and some Italian breads!
From all of us here at the Social Media Command Center, we'd like to extend a tremendous thank you to the folks at Maggiano's for putting smiles on our happy faces!
From date night, to anniversaries, to large scale dinner or lunch meetings, the team over at MAggiano's will have you covered, so be sure to check them out!
For more information about Maggiano's and their delicious menu items, feel free to check out their website, and stay tuned in for more updates on Tampa Bay dining!