Yesterday I was really starving and wanted a bit of a change of pace for lunch ya know
I work in downtown Tampa, and while the food here is awesome, its always good to venture out and try something new!
So I called up a good friend of mine and we decided to take a trip over to the trendy Westshore district and try out  a new place I had been wanting to go to! I had been hearing from a friend I know who works over in Westshore at an office building about a nice little trendy spot over in the Crowne Plaza Tampa Westshore hotel called the
Mezzo Restaurant & Lounge
, and decided to try it out.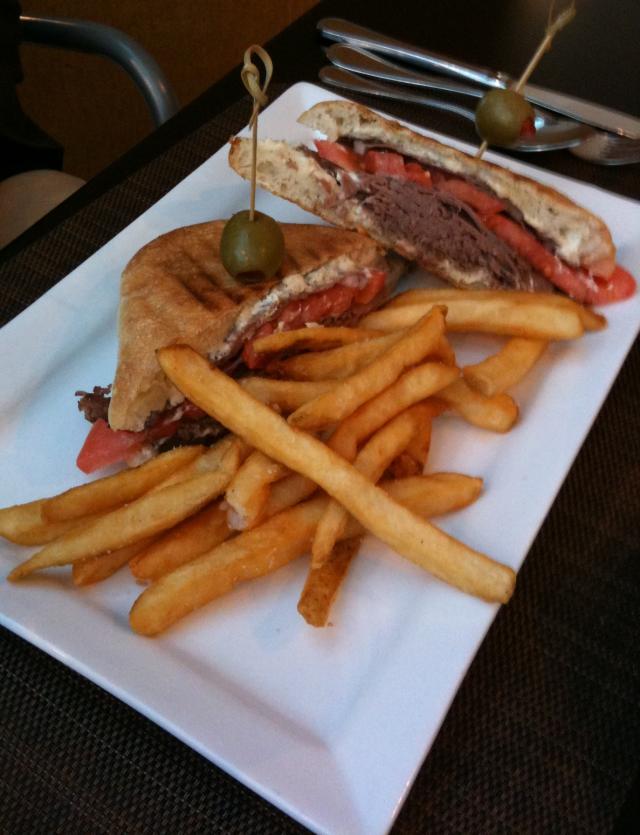 It took me a while to go over the
menu
, as there is plenty to choose from, but I finally settled on the roast beef panini! Added some fries to that and I had myself a meal?
Now for those of you that haven't been there yet, let me give you a mental picture: Roast beef, boursin cheese, shaved red onion and vine ripe tomato, served on a ciabatta roll! I will give you a few minutes to wipe the drool from your mouth... Okay are you done yet.... good, lets keep moving!
Normally I am a vacuum cleaner and inhale whatever it is that is on the plate in front of me, but honestly guys, this filled me up to the point to where I had to box it and take it home for dinner...which isn't at a bad thing since Jerm can't cook to save his life.
Don't get it twisted though, not only can you grab a meal at the Mezzo, but feel free to unwind in the lobby lounge with your favorite beverage.  Hours of operation are from 11:00am until 12:00am!
Lastly, The Crowne Plaza Tampa Westshore is proud to brew up your favorite specialty coffee.  Located on the lobby level. What more could you ask for a complete Tampa Bay dining experience!
Well that's it for now gang... stay tuned in for more updates on where to eat in Tampa Bay!