Happy Holidays everyone!  Travis here with some great Tampa Bay tourism news!  Tampa's Lowry Park Zoo has been a part of this community for a very long time, and they just announced some exciting news!  We wanted to bring it straight from the horse's mouth to you: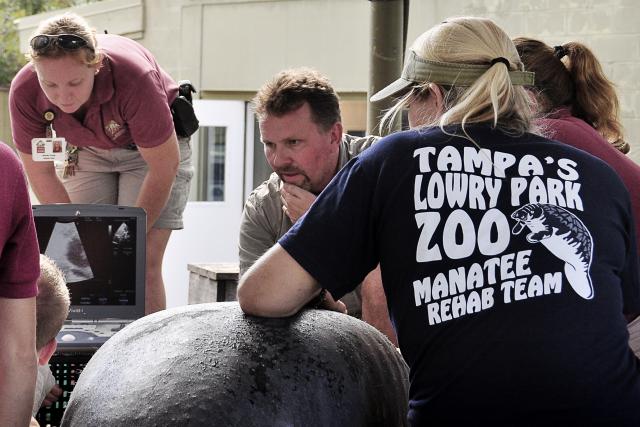 From Lowry Park Zoo:
Dick Stohler and Robert Thomas, co-chairs of the $10 million New Horizons Campaign to benefit Tampa's Lowry Park Zoo, today announced that the Zoo has received a $500,000 challenge match from Tampa residents Marylou and Jim Bailey to support humanitarian and rehabilitation initiatives for injured wild manatees, an endangered species for which the Zoo is internationally recognized for its significant contributions. The manatee match will direct funds to areas of critical need within the Zoo's manatee program, specifically the substantial restoration of facilities to provide a sustainable environment for the manatees and other aquatic animals for future generations.
The challenge is designed to encourage additional contributions of $1 million from private sources. The Zoo's goal is to match every dollar received from the Bailey family with two additional dollars raised from the community -- for a total of $1.5 million. Without these funds, the Zoo would not be able to sustain its current rehabilitation program.
           
"The Zoo's commitment to manatee preservation is inspiring to us," said Marylou Bailey, a trustee of the Lowry Park Zoological Society, the nonprofit organization that operates the Zoo. "The work done at the Zoo to stabilize and heal injured manatees, and return them to the wild, is critical. Although I am personally aware of the Zoo's wise use of publicly available funds, the preservation of manatees is chronically under-funded which puts these Florida treasures at risk."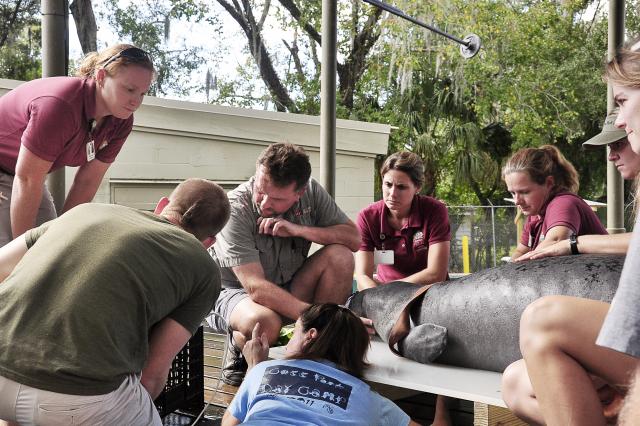 Tampa's Lowry Park Zoo is widely recognized for caring for critically injured, sick and orphaned manatees. This endangered species has been at the heart of the Zoo's commitment to conserving Florida wildlife for more than 20 years. Originally constructed in 1990, the Zoo's Manatee and Aquatic Center houses the David A. Straz Jr. Manatee Hospital, which is the only non-profit hospital in the world specifically dedicated to manatee rehabilitation, and one of just three facilities in the state.  
           
"The husbandry science performed at our manatee hospital is vital to the rehabilitation and eventual return of as many individual manatees as possible back into the wild," said Dr. Larry Killmar, VP of conservation science and director of collections at the Zoo. The Zoo has treated more than 290 manatees to date -- about 5 percent of the state's most recent wild count. Of those, more than 150 have been re-introduced into Florida waters.
Significant upgrades are needed for the Manatee and Aquatic Center to accommodate the needs seen in recent years. The life-support system was designed two decades ago to accommodate approximately six animals at once, which was adequate for some time.  In recent years, the average number of manatee patients at any one time has averaged 10, with a high of 18 in 2010 due to a period of record cold weather. Improvements are needed to all major components including pumps, filtration, and heating systems to meet or exceed current standards.  
"As the Zoo continues its leadership role in manatee care and research, a facility to keep up with the pace of our work, and one that operates more efficiently, is of paramount importance," said Craig Pugh, executive director/CEO of the Zoo. "A renovated hospital is a sound investment to help us to continue to meet the needs of Florida manatees in accordance with the recovery plans of the U.S. Fish and Wildlife Service and the Florida Fish and Wildlife Conservation Commission. Rescue, rehabilitation, research, and release are only part of the picture. We also must increase public awareness and education so that manatees are protected when they leave the hospital."
Dr. Ray Ball, director of medical sciences for the Zoo added, "Maintaining a readiness for humanitarian efforts in regards to distressed individual manatees - or responding to potential events that threaten the manatee population - require this level of re-investment in the Manatee Hospital. Improved efficiencies will potentially allow experienced manatee rehab staff to offer assistance to more in-situ involvement to help ensure the long term health of the population."
The Zoo works to educate more than one million visitors annually about the endangered status of manatees and the importance of aquatic and marine habitat preservation. Renovations to the aquatic center building and hospital overlook will enhance the educational opportunities.
The Zoo's financial commitment to the manatee program is approximately $1 million per year which constitutes up to 25 percent of the annual animal department operating expenses.
The Baileys are long-time supporters of the Zoo's manatee program, also sponsoring the crane used to lift injured manatees (often more than 1,000 pounds each) into and out of treatment pools, and Jim lends his time and talents as a certified diver in the exhibit pools. Marylou Bailey added, "We are pleased to have the ability to be part of funding this critical cause and hope others are motivated to join us."
The $500,000 challenge is part of the $10 million New Horizons Campaign launched in December 2010 to provide vital support for expanding animal science and conservation programs, and conserving Florida's natural resources.  Approximately $6 million of the $10 million goal has been raised to date.  Make a donation online or call 813-935-8552 ext. 376 for assistance.
NOw that's some exciting new for the Zoo, and for the community, so let's give them a huge cograts on the great work they do. 
We'll see everyone back here for more news, as well as some great things to do in Tampa Bay and Tampa Bay area events.