Okay folks! It's the chance you've all been waiting for as today we are giving you a chance to win a romantical Valentine's Day evening at The Melting Pot of Tampa Bay! As I said yesterday, nothing quite beats Fondue for a romantic evening!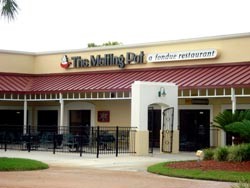 Now I must warn you that today there will only be one winner, but you are still a winner in my eyes if you make sure to call in and secure those reservations over at the
Melting Pot of Tampa Bay
! They have decided to open up at noon on Saturday the 12th, Sunday the 13th and Monday the 14th! So you have plenty of opportunities to
book your reservation
, but be sure to take full advantage of it!
Now onto to today's trivia giveaway questions! Now this one will go a bit differently as all of the answers for today's trivia will be from previous posts that I have written for the Melting Pot.
There are three of them and they range from
my first experience with fondue
,
Valentine's Day announcement blog
, and
yesterday's blog announcing today's giveaway
!
Like always, Jerm is taking care of you and will be giving away a gift card with a $125 value along with a reservation for Feb 14, at 5:45 pm so you better make plans in advance for this one. Today you will have the chance to win by playing on both
Twitter
and
Facebook
, so listen up on how to win! We will take the submissions from both and draw one name!
It's quite simple, we ask some questions below and you answer to give yourself a chance to win! Once you do that you will be entered in to win, as we will randomly draw one name total, and that person will have tickets! Here goes:
According to yesterday's Melting Pot blog post, on Saturday the 12th, Sunday the 13th and Monday the 14th, the restaurant will be opening at what time?

2. During my first visit to the Melting Pot, we tried the Big Night Out 4 Course® Dinner. What did we have as our first course?

3. In my Valentine's Day announcement post on January 18, I  talked about celebrating Valentine's Day with the "Ultimate Romantic Cuisine" and the menu that goes along with it. Name 1 of 2 items on the Second Course?
Well folks, those questions stump you! Remember leave your comments on the Facebook and/or Twitter posts! Remember answers left in the blog comments area of this post
DO  NOT  COUNT
.
I'll announce the winners around 530-6pm today so be paying attention. Either way, be sure to make your reservations for V-Day at the Melting Pot!
That's all for now and stay tuned in for more updates on Valentine's Day related Tampa Bay dining updates and things to do in Tampa Bay!