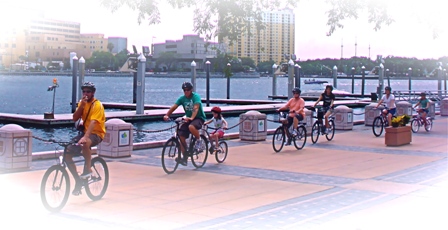 City Bike Tampa
, one of our newest partners, has lots of activities to offer visitors traveling to Downtown for Tampa Bay meetings, conventions or events.  They rent bikes (all kinds of bikes), jogging strollers, baby car seats, trail-a-bikes and longboards with big sticks.  You may be wondering what trail-a-bikes and longboards are cause I had no clue when I heard about them. 
Trail-a-bikes are the little bikes for kids that attach to adult bikes (see the 2nd bike in the picture above). 
According to wikipedia, longboards are skateboards with a longer and sometimes wider shape. They are most commonly used for transportation.  Longboards are street legal, unlike skateboards in many area.  The big stick helps you manuever the longboard - very cool in my opinion.  I wanted to test it out, but wasn't such a good idea at the time since I'm 9 months pregnant. 
The owners, Kellie & Jason, are two of the nicest people I've ever met and are so accommodating.  They offer hourly, daily and weekly rates and are also hosting history bike tours around the downtown Tampa area.  If you're traveling with your little ones and don't want to lug a car seat with you, they'll meet you at the airport with car seat(s).  They'll also deliver bikes or whatever you'd like to rent to your hotel.  Pretty nice, huh?  AND their prices are extremely reasonable. 
In August, they will begin renting out kayaks behind the Marriott Waterside downtown.  So if you're looking for something to do during your visit to Tampa Bay, City Bike Tampa has plenty of options to keep you busy and active! 
Stay tuned for more news on things to do in Tampa Bay, upcoming events and new partners!