Good morning everyone, Alex here to tell you about an exciting dance competition happening in Tampa this June.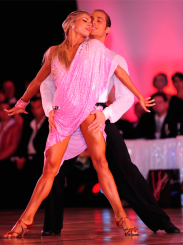 Millennium Dancesport Championships, one of the nation's most glamorous and prestigious competitions, is returning to Tampa this summer.  Competitors from around the globe will be at the grand Tampa Marriot Waterside Hotel June 21-25, 2011.
During the day, you'll see pro/am competitors (professionals and their students like Dancing withthe Stars) and youths competing, while professional couples and daytime finalists take to the floor in the evenings. Over the five days, dancers will vie for $125,000 in cash and prizes.
If you've never experienced the thrill and excitement of a live ballroom dance competition,
now is your chance!
Seating is limited so book early. Reservations are required. Day and evening tickets are available:
Tue Evening: $25 & $50 | Wed & Thu Evening: $50 & $100 | Fri & Sat Evening: $70 & $150
Day Sessions: $25 each day
Day Sessions: 9 am to 5 pm
Evening Sessions: 8 pm to midnight
For more information on the Millennium Dancesport Championships, please
click here.
Purchase your tickets today by calling (863) 668-9668 or e-mailing emmaoswald@aol.com.
Have a great day and check back with us often for more information on Things To Do In Tampa Bay!