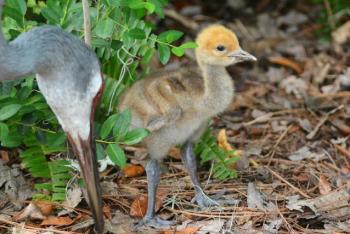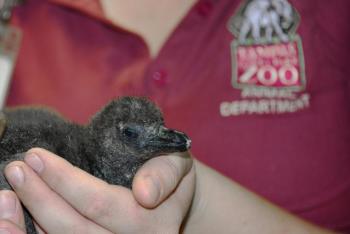 As if we needed another reason to visit Tampa's Lowry Park Zoo, the zoo just welcomed two adorable spring chicks, one an African Penguin and the other a Eurasian Demoiselle Crane!
The zoo's new-born African Penguin will feel right at home here in Tampa, despite what some may think. Although many associate penguins with frigid Antarctica, African Penguins are well suited to the warm climate of sunny Florida. Native to the offshore islands on South Africa's coast, this hatchling will be easy to spot with its dark gray feathers, before shedding them for its characteristic black and white ones.
Not to be forgotten, two Demoiselle Eurasian cranes have just welcomed their first hatchling! Noticing that the two parent birds lacked experience, quick-thinking zoo keepers slipped the egg under a Florida Sandhill crane, who has become the chick's adoptive mother. Demoiselle cranes are native to Africa and Asia, but that didn't stop a Florida crane from taking the new-born under her wing. How about that Florida hospitality?
Stay tuned for more updates on the hatchlings in Tampa Bay!