Hey Tampa, have I got the coolest event for you! Lisa here with an update on Arts and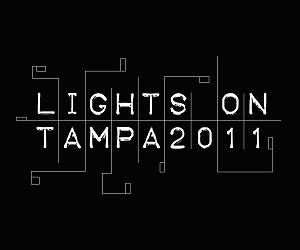 Culture in Tampa Bay.
THIS Saturday night (the 19th)
Lights On Tampa
is BACK!  Ok, for those who have no idea what I'm talking about and think I'm crazy for being so excited about lights let me give you a little background about this awesome event.
The Lights On Tampa program was developed by the City of Tampa's Public Art Program, working with regional businesses, volunteers, and art supporters. The idea was to reaffirm Tampa's commitment to arts and technology by presenting highly visible, innovative light installations created by juried artists.
January 7, 2006 was the grand opening of Lights On Tampa! With six artists and 20,000 people Lights On Tampa was up and running. In 2009 there were five installations that ran three weeks through Superbowl Sunday, as Tampa was the host city. Through these festivals there are some permanent displays: The Tampa Bay Performing Arts Center, Tampa Convention Center and the Tampa Municipal Building.
Lights On Tampa installations have been recognized by the Americans for the Arts Public Art Network for two projects in 2006 and one in 2009 for having the best public art installations in the country. They have also been awarded a local Urban Excellence Award by the Tampa Downtown Partnership and a local Best of the Bay award by Creative Loafing.
This years extravaganza is going to be Saturday, the 19th (this Saturday)  from 5:30pm-11pm. It is a family event with theater, dance, music, and visual art by individual artists and ensembles of local and international acclaim. Much of the performances and activities were created for the Lights on Tampa 2011 celebration in Curtis Hixon Park.
The entire event is FREE and HART is even sponsoring free bus trolley rides. Sono Cafe at the Tampa Museum of Art will be open until 11, and there will be other food vendors and restaurants opened throughout downtown.
For all the details refer to the
website
. Otherwise, get out there and enjoy a free fun night! Or even head over to the Tampa Bay Lightning game and then enjoy the lights!
That's all for now, but stay tuned for more Things To Do In Tampa Bay, and other Tampa Bay Area Events.