Just when you thought we were done for the season, the Tampa Bay Lightning are at it again! Lisa here, with an update on our Bolts.
Our
Tampa Bay Lightning
have been named the No. 2 franchise in sports according to ESPN The Magazine's ninth annual "Best Franchises in Sports" rankings, in the "Best in Sports Issue." Our Bolts finished behind the NFL's Green Bay Packers. The Lightning made the largest jump of all teams, improving 68 places from No. 70 last season.
Now I'm going to try and help you understand how they come up with these rankings. The "Best Franchises in Sports" feature is part of ESPN The Magazine's Ultimate Standings methodology study, which determines and overall ranking for pro sports franchises according to how much they give back to fans for their time, money and emotion they invest in them.
"The teams at the top of our Ultimate Standings are winners on the field, but, as we write in the magazine, they're truly notable for returning fans' love - keeping core players, discounting tickets, investing in their communities." Says the editor Peter Keating.
The rankings are determined by a multi-tiered analysis that examines a team's efficiency in spending fan money as compared to its on-field performance. It also factors in feedback in 21 categories from more than 70,000 fans nationwide, bot online and in polling conducted by independent third parties.
We can thank our owner Jeff Vinik for beginning our amazing transformation. When he purchased the lightning last year, he pledged to turn us into a "world-class organization." To prove it, he hired Hockey Hall -of-Famer and four-time Stanley Cup Champion Steve Yzerman as vice president and general manager.
In January of 2011 Vinik announced a detailed vision that included a new logo and jersey, $35 million in privately-funded building renovations to the St. Pete Times Forum, $10 million in community donations and 4,000 hours of community service each season.
The fans have reacted immediately by increasing attendance 11.3% (the best in the league) from 2009-2010. The
Tampa Bay Lightning
also sold out eight playoff games, averaging nearly 21,000 fans per game.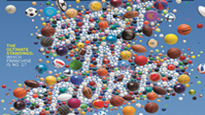 Way to go Lightning! That's all for now, but I'm sure I'll have more Tampa Florida News soon!