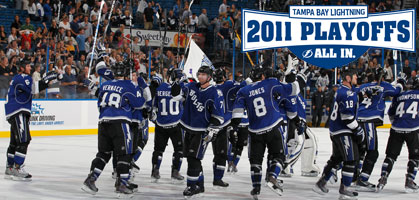 HEY TAMPA!!! Ya that's right I'm yelling at you! Listen up! The Tampa Bay Lightning are coming back to town TOMORROW night for game 3 of the second round.
Lisa here, with your Tampa Bay Lightning information!
So here's the deal. We are playing the Washington Capitals. Now for those who don't know, they are ranked #1 (we are #5). So far, we have beaten them in both games. Meaning, we only need to win two more to go on to the next round.
Here's what I need from you. The city of Tampa is turning into a Bolts Nation before my eyes.  But I want to see a sign in every window, on every car, and heck you could even carry one around! Being in the playoffs is a big deal, and being in this round being up by two games is AWESOME!
I am clearly obsessed with Hockey, and went to one of the games last round. I was over the moon with the feeling inside the arena the night I went. This time, I think the atmosphere will be even better. And if you've been watching you know we are playing some seriously awesome hockey.
So
ticket information
. You can obviously go online, or stop by the box office (Open from 9am-6pm) at The St. Pete Times Forum to get your tickets. But here's the catch!  DON'T  WAIT TOO LONG!!! This game will sell out, and trust me when I say you want a seat. The game is TOMORROW night at 6:30pm. Be sure to get there early to see all of the action.
Also continuing throughout the playoffs is the annual Beard-A-Thon. You can head online to see the participants and their ever growing beards. This fundraiser helps the Lightning with their Lightning Foundation. The goal of the foundation is to raise money for the Pediatric Cancer Foundations Cut for a Cure. So head
online and donate now!
That's all from me, but stay tuned for more Tampa Bay Area Events, and other Things To Do In Tampa Bay! I better see you at the game tomorrow! LET'S GO BOLTS!!!!!!!!!!!!!!!!!