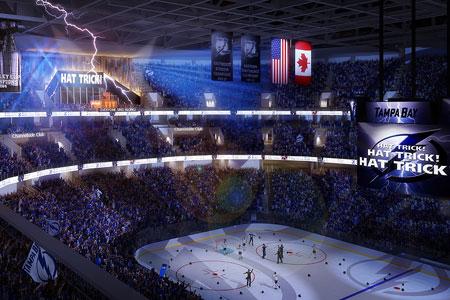 Let's go Bolts! Hey Tampa, Lisa here with an update on your Tampa Bay Lightning. I recently had the pleasure of attending a game, and was so happy and excited about my experience I wanted to share it with all of you!

This was my first game of the 2011 and 2012 season, so it was my first time in the newly renovated arena. I've lived here for a few years now, gone to a few events at the Forum and quite a few hockey games. I actually walked into the Forum and had no idea where I was. It looks completely awesome and totally different.

The major differences can be seen with the new entrance, new floors, new seats, new organ, oh right and the new lightning machine...yes a lightning machine. That may be my favorite part. And the seats are so nice! I was completely blown away with the entire thing, and I know it's not finished yet.

Even though it was a loss (a well fought one), I still had a great time. My friends and I left with huge smiles on our faces and are excited about returning for another game! So the next time you are looking for things to do in Tampa Bay, check out your very own Tampa Bay Lightning!