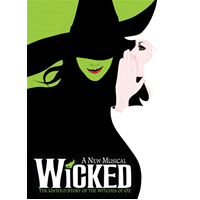 Hey everyone!  Travis here to share some Tampa Bay entertainment news with you...what is this amazing news you ask.  Well, it's simple -
IF YOU HAVEN'T SEEN WICKED YET, MAKE SURE YOU DO!
Broadway's biggest blockbuster has flown back to Tampa and landed right at the David A. Straz Center for the Performing Arts.  But, it's only played until Feb. 28!  So that doesn't leave you a lot of time to go see this amazing play! 
So, you need to log on to www.tbpac.org now to get the details and even order tickets!  Then, you have to come back here and let us know what you thought! 
See you then...and as always, keep checking back for more great things to do in Tampa Bay and other Tampa Bay entertainment options.