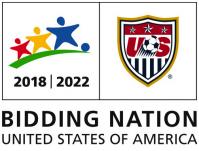 Hello there soccer fans! Jerm here with a cooler than normal update about a new video on
www.GoUSABid.com website
! The Go USA Bid Committee has created a new video telling the story of soccer in America.
During the making of this video, the Bid Committee team traveled to communities all over the country, talking to players and fans of every kind, capturing what soccer really means to us as Americans.
Very exciting times as around this time tomorrow the bid will be in the hands of FIFA President Sepp Blatter! Please continue to show your sport by going to
www.VisitTampaBay.com/WorldCup
, or
www.GoUSABid.com/TampaBay
and show your support! Thanks for checking in and staying up to-date with all the news on World Cup related Tampa Bay area events! more on things to do in Tampa Bay coming up shortly!
Give the video a look and be sure pass it to everyone you know: