Hello Tampa! Lisa, here with an update from LEGOLAND Florida!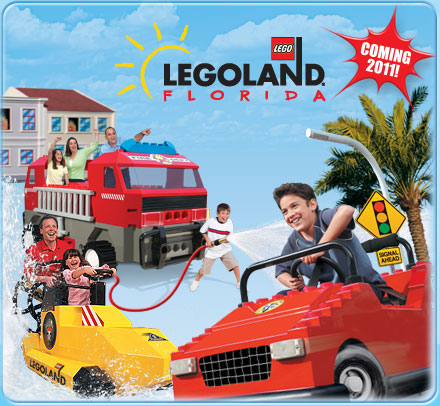 LEGOLAND Florida will be opening in October of 2011!!! This 150 acre theme park is dedicated to families with children between the ages of 2 and 12. They are going to have more than 50 rides, shows, and attractions! LEGOLAND is geared towards family fun. Considering there are only four other LEGOLAND'S in the WORLD it's pretty cool that one is coming to Florida!
The exciting news I have to share today is that LEGOLAND will be partnering with Pepsi brands for an exclusive deal at the park. The other cool thing is that LEGOLAND will be featuring mostly Pepsi's healthy choices with Tropicana and Dole juices along with Aquafina water. Because Pepsi has so many products available, it means that guests will have that much more to choose from! Things like Pepsi Max, Gatorade, Sierra Mist, Pepsi etc, will all be offered.
"The Partnership is the beginning of a tremendous relationship between LEGOLAND Florida and Pepsi," said LEGOLAND General Manager, Adrian Jones. "We are excited to welcome PBC into the LEGOLAND family, and know that the partnership between these two quality brands will be a great success for both companies."
As the opening gets closer, I'm sure there will be many more updates. But for now you can check out their
website
for more details.
That's all for now Tampa, but keep checking back for more Things To Do In Tampa Bay, and other Tampa Bay Entertainment updates.