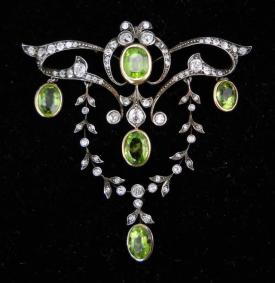 The Henry B. Plant Museum's new Language of Jewelry exhibit explores necklaces, rings, watches, brooches, bracelets and other historical pieces designed during the mid-19th through early-20th centuries.
Attendees can discover the difference between gems and gemstones, the romantic meaning of serpents and other elements from nature, the intimate art of writing romantic messages with stones, and the rise of the diamond as the most valuable gem. The exhibit will be on display through October 8.
The exhibit will also hold a Language of Jewelry Lecture open to the public on March 22 at 6:30 p.m. in the Music Room of Plant Hall, which is adjacent to the Museum. The panelists will discuss historical jewelry as well as how the jewelry was worn or used. They will explore how jewelry reflected one's ranking and illustrate how society/cultural changes and industrial developments influenced trends in men's and women's jewelry. 
The panelists include:
Dr. Elizabeth Winston, Associate Professor of English specializing in 19th century British fiction;
Dr. Charles D. McGraw, Assistant Professor of History specializing in the period 1877 to 1917; and
Barbara Smith of Barbara Smith Estate & Fine Jewelry and former buyer of estate jewelry for Tiffany & Co., New York. 
For more information, call 813-258-7304.