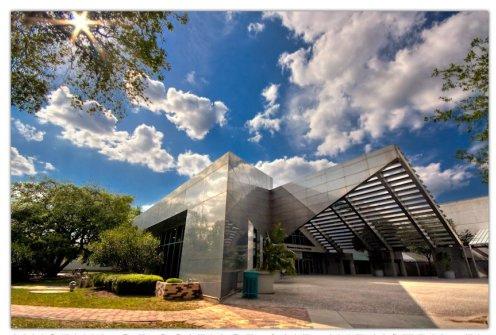 Hey Tampa Bay... Julian here with exciting news from our friends at
MOSI
: Marking the 10th anniversary of its National Hispanic Scientist of the Year Award,
Tampa's Museum of Science & Industry
, along with presenting sponsor Bright House Networks,  has chosen their 2010 honoree, Dr. Dan Arvizu, a scientist at the cutting edge of America's research and development of renewable energy sources.
Arvizu currently serves as the Chief Executive and Director of the U.S. Department of Energy's (DOE) National Renewable Energy Laboratory (NREL) in Golden, Colo., the nation's primary laboratory for renewable energy and energy efficiency. As Director, Arvizu oversees the DOE's progress in wind power, solar power, biofuels and numerous other renewable energy technologies.
As the need to find clean energy solutions for the nation and the world becomes more urgent than ever before, the research headed by Arvizu at NREL is playing a major role in shaping U.S. energy policy. In the past three years, Dr. Arvizu has testified before congress four times, given state-of-technology presentations at three Congressional caucus briefings, and keynoted 12 major national and international conferences.
In 2004, Dr. Arvizu was appointed by President Bush for a six-year term to serve on the National Science Board, which is the governing board of the National Science Foundation and the national science policy advisory body to the President and Congress. He is co-chair of the task force on "Building a Sustainable Energy Future: U.S. Actions for an Effective Energy Economy Transformation."
Arvizu became NREL's eighth Laboratory Director in January 2005, and was previously an executive with CH2M HILL companies, a multi-national corporation providing full-service engineering, consulting, construction and corporate operations around the world. He earned his Master of Science and Ph.D. in Mechanical Engineering from Stanford University.  The son of Mexican immigrants, Dr. Arvizu is the first and only Hispanic ever to become a Director of a U.S. National Lab.
For the past nine years, MOSI has recognized nationally distinguished Hispanic science and engineering professionals to serve as role models and mentors for Tampa Bay's Hispanic youth. Past honorees include a former U.S. Surgeon General, a Nobel Laureate of Chemistry, a NASA astronaut, a marine biologist, a Harvard professor of pathology and former chief of immunogenetics at Dana-Farber Cancer Institute, a seismologist and former director of the Carnegie Academy for Science Education (CASE), Washington, D.C., an industrial engineer and the first Hispanic to serve as acting head of the Engineering Directorate at the National Science Foundation (NSF), a molecular biologist and founding member of the Society for the Advancement of Chicanos and Native Americans in Science (SACNAS), and most recently, the chair of the Nuclear Regulatory Commission.
MOSI will present this year's National Hispanic Scientist of the Year Award to Dr. Arvizu during a gala award ceremony on Saturday, October 16, 2010. The mission of MOSI's National Hispanic Scientist of the Year Award is to recognize outstanding Hispanic scientists who promote a greater public understanding of science and motivate Hispanic youths' interest in science.  For more information, visit
www.nhsoy.org
.
So if this isn't quite something! When was your last day out at MOSI...? They've got fun down to a science! I'll keep you posted about updates and news around Tampa Bay and Tampa Bay area events! So keep checking back here!