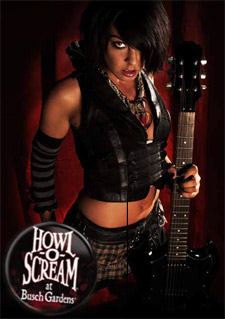 Hey Hey Tampa, Melissa here to tell you guys about an awesome giveaway we will be doing on Wednesday, and I must say this is a really good one!

I have a few Howl-O-Scream tickets from our lovely friends at Busch Gardens to give away. I'm sure a good chunk of you know that Howl-O-Scream is an annual Halloween event held at Busch Gardens Tampa Bay. This years' event will feature plenty of haunted houses, scare zones and an angsty pure-indie rock band named My X. Check out the Howl-O-Scream page for details about the houses, shows and band.

This is your last week to experience Howl-O-Scream 2010, and what better way than for free! The giveaway is going to be very similar to how others have been. Basically, we will be posting trivia on our blog Wednesday morning around 10 AM. Then, all you have to do is go to our Facebook and Twitter  pages, and answer them. Yep, it's that simple: Log on, answer trivia, get tickets. The first ten people to answer the trivia correctly will be entered into a drawing we will do on Wednesday. This is definitely not a contest to be missed- ticket packages are below:

Facebook – 3 General Admission Passes, 3 Fright Feast Passes (Food), 3 Front of Line Passes

Twitter - 2 General Admission Passes, 2 Fright Feast Passes (Food), 2 Front of Line Passes

Wow, not only do you get the general admission passes, but you don't have to wait in line AND this includes food-I wish I could keep some of these passes for myself, but I won't since I love you guys so much!

Here are a few details about the passes:

The front of line passes also include 20% off gift shop purchases, a free $5 GamePlay card, a free photo (when you purchase a regularly priced one) and a free 22 oz fountain Pepsi product when you purchase an entrée.

The passes are valid for redemptions at 7 of the haunted houses during Howl-O-Scream 2010 and are not redeemable for cash. There are no refunds for unredeemed house visits. Check out the Howl-O-Scream page for more details.

There you have it Tampa-your last chance for Howl-O-Scream 2010 tickets, again THIS IS THE LAST WEEK, so visit our blog and Facebook and Twitter pages on Wednesday for a chance to go to Howl-O-Scream for free! And of course, keep checking back here for more info on things to do in Tampa Bay and Tampa Bay Area events!