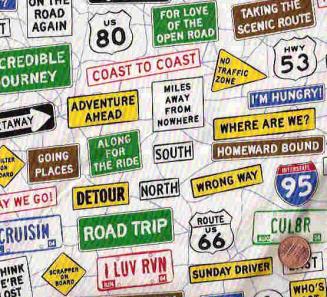 Ok, we've been bringing you tampa tourism updates and summer 2009 Travel Trends from smartertravel.com for the last several days.  Unfortunately, this is the last one, but I promise we'll find more updates for you!  So, here's travel trend number 8!!!

Road Tripping

With airfare fees adding up and gas moderately priced compared to last year, many travelers are hitting the road this summer. The classic U.S. road trip can offer great savings, stunning scenery, and the chance to catch up with old friends along the way.

Hertz has a variety of deals for weekends or weeklong trips, including 50 percent off weekend deals or $35 off weekly rentals through June 30. As Hertz regularly renews its promotions, I expect these or similar offers will be available for July and August rentals. Check the Hertz website regularly for updates.

If you're hitting the road and want to stay at a B&B, many innkeepers will reward you for your road trip. Ask your innkeeper if he or she is participating in BedandBreakfast.com's "Tanks for Traveling" promotion. Current offers include a seventh-night-free at Wishing Well Historic Cottage in Niagara-on-the-Lake; a complimentary dinner for two and $25 off any spa service at the Knucklehead Inn in Cornell, California; and free fuel and shopping gift cards at the Aldrich Guest House in Galena, Illinois, among many others. To see the latest offerings, select "Tanks for Traveling" from the dropdown menu on Bed&Breakfast.com's specials website.

If you're more a rider than a driver, Amtrak has plenty of deals for you. Save on Acela tickets (from $51 each way) through June 26 or get weekend fares from $32 each way; students, seniors, military members, veterans, and AAA members can also request discounted pricing.

Now, get in your car and take that road trip to Tampa Bay!  From Ybor City to...well, anywhere...we have great things to do in Tampa Bay! 

So, start planning now and we'll see you soon!

And as always, Keep checking back for your updates about Tampa Bay entertainment and other Tampa Bay area events.