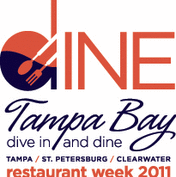 Today is the last day to experience some of the area's finest restaurants during the second annual Dine Tampa Bay Restaurant Week, which kicked off Aug. 19.  Participating locations are showcasing their dinner options by offering $25, $35, or $45 prix-fixe, three-course menus (appetizer, entrée and dessert).
Each of the more than 60 participating restaurants is providing a special Restaurant Week menu in addition to their standard menu, which will suggest three options for each course. 
Diners can choose from old favorites to the latest culinary hot spots, nationally known chain restaurants to local chef-owned bistros, Asian or Spanish fare to Italian, fondue, tapas and sushi, and from the award-winning restaurants of downtown Tampa to the gourmet gems on the beaches.
Prices are per person and exclude beverages, tax and gratuities.  For more information about Dine Tampa Bay Restaurant Week, including a list of restaurants, chef bios, and other event information, log on to
www.DineTampaBay.com
. 
Stay tuned in for more updates on Tampa Bay dining!