Ok Tampa, as promised here is your last installment about
Zoofari
!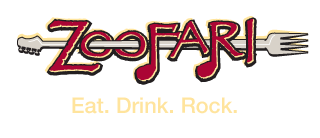 For the last post, I decided it would be important to make sure I answered any lingering questions. Things like what else is there to do besides eat and drink, or if the Zoo is even open on Saturday? Hopefully I will answer most of your questions here!
Lets start with what else is going on besides the amazing Tampa Bay Entertainment, and awesome Tampa Bay Dining. There will be an Art Safari. This is a silent art auction the gives local artists an outlet to display their work to many local businesses. This auction is sponsored by Frame by Frame Galleries. These pieces are created by wildlife and landscape artists in a variety of mediums. Some of them are even painted by the animals themselves.
Another common question is will the Zoo be open on Saturday? YES! They are open until 2pm. Some of you might also be asking who this benefits, well I'll tell you. It benefits the Zoo's education programs and of course the animals. The Zoo is a charitable organization committed to excellence in education and research.
What if it rains Saturday? Well first of all, the Tampa Bay Weather looks amazing Saturday but if a freak rainstorm happened Zoofari would still rock on! Come rain, sun, snow, ice, fire...Ok I got carried away, but basically anything short of a Hurricane and it will happen! Just make sure to dress for the weather because it is supposed to be chilly, and since the dress is casual that works out well!
Don't forget your tickets, or your confirmation if you are picking them up at the door. And if you are going to enjoy some adult beverages, you need your ID!
Well that's all Tampa! Enjoy your weekend, and stay tuned for more Things To Do In Tampa Bay!