Hello out there to all my USA Soccer fans! I know its been a while since I last blogged, but I must admit that I was rather heartbroken to see the USA bow out of the FIFA World Cup last weekend vs Ghana.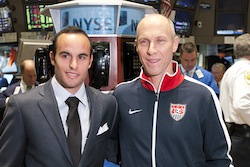 I have sense recover though and I am extremely proud of the quality of soccer we played and the effort the guys and the coaching staff gave on behalf of their country.
Having said that, its just been amazing to watch the outpouring of support for the game here in the US in recent weeks, and we have seen that at an even higher level in recent days as the team has returned from South Africa.
So much so Landon Donovan and Bob Bradley were given the honor of
ringing the closing bell
at the New York Stock Exchange yesterday, in addition to being guest of Jon Stewart on the Daily Show who is an avid soccer fan and former play at William & Mary. If you haven't seen it yet, be sure to check out the embedded video below...
Once you viewed the video, be sure to log on to
www.GoUSABid.com/TampaBay
and show your support for our FIFA World Cup Bid to be a host city in the years 2018 or 2022! That's all for now, but enjoy the video and stay tuned in for more updates on things to do in Tampa Bay!