Hey Tampa Bay.. Alex here to inform all of the ladies in the area about Ladies Chalk Talk 2. Ladies, are you interested in learning a little about the game of football? Well if so, who better to learn from then a couple former NFL players and sports broadcasters.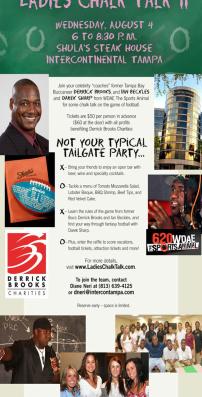 Shula's Steak House and InterContinental Tampa are inviting women to huddle up for an
evening of great food, drinks and some Football 101 fun – all for a wonderful cause. Derrick
Brooks and Ian Beckles – former  Buccaneers and the current host of the "Ron & Ian" show on 620 WDAE The Sports Animal – will spend the evening "coaching" guests through the ins and outs of the game. This year, they will be joined by Darek Sharp, also of 620 WDAE The Sports Animal, to break down the game of Fantasy Football.

The dinner menu will include lobster bisque, tomato mozzarella salad, beef tips and
Shula's famous BBQ shrimp, as well as specialty cocktails. 

Throughout the night Shula's will host an exciting raffle offering prizes ranging from vacation
getaways to spa treatments.
The event will cost $50 per person in advance, $60 at the door – all profits from the event and all proceeds from the  raffle with benefit Derrick Brooks Charities- whose mission is to provide educational opportunities for socio-economically challenged youth that will instill, inspire, broaden, and develop cultural and social vision outside of the walls in which they live to ensure that they have every chance to develop into the strong and productive leaders of tomorrow.
So ladies grab your friends and head over to Shula's Steak House and InterContinental Tampa on Wednesday, August 4th from 6- 8:30 p.m. for a girls night out.
 Check back often for more events happening at local Tampa Bay dining spots and Tampa Bay Hotels.