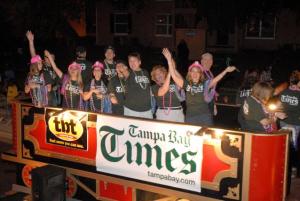 Ybor, Tampa's Historic Latin Quarter will come ablaze with parade floats loaded with bands and pirates this Saturday, Feb. 9 for the Krewe of the Knights of Sant' Yago Knight Parade.
The Knight Parade always follows Tampa's annual Gasparilla celebration and attracts locals and visitors of every age.  The Parade continues to be a Tampa Bay tradition and considered to be the largest of its kind in the Southeast.  The Krewe of the Knights of Sant' Yago have hosted it every year since 1974 and keep the rich, colorful tradition alive with illuminated floats, creative costumes, music, dancing and of course beads.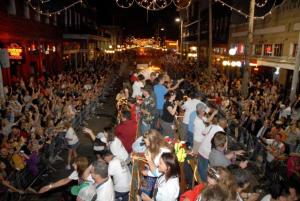 The parade will kick off Saturday, Feb. 9 at 7 p.m. and proceed up Nick Nuccio Parkway, turning east on 7th Avenue and ending on 23rd Street.  If you are planning to drive into Ybor City tomorrow, note that 7th Avenue will be closed starting at 2 p.m. so plan your route accordingly.  For maps, parking and additional information visit www.knightparade.com. Below you will find a few links that are helpful…
Reserve bleacher seating or call 813-248-3088
Remember this is a FREE event and open to the public.  Plan to arrive early for the best seating, expect large crowds and enjoy watching Ybor City in Tampa come life at night!