What do you get when you combine Shakespeare's Taming of the Shrew with Cole Porter's music and magical touch? The beloved musical, Kiss Me, Kate, which will be performed by the Patel Conservatory Youth Theater (PCYT) Productions Nov. 8-10 and 15-17 at the Straz Center for the Performing Arts' TECO Theater.
Kiss Me, Kate is a story-within-a-story that pairs the music of Cole Porter with the humor and inspiration of Shakespeare. It will be performed at the Straz Center by middle, high school and college students enrolled in PCYT and Patel Conservatory adult dance students and faculty.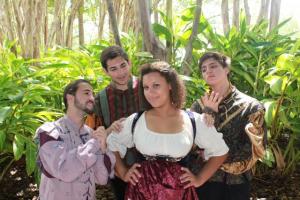 This, fun, sophisticated show has been performed worldwide. Popular musical numbers include "Wunderbar," "Too Darn Hot," "Brush up Your Shakespeare," "I Hate Men," "Always True to You (In My Fashion)" and "Another Op'nin, Another Show." Awarded the Tony ® in 1949, the show ran for more than 1,000 performances on Broadway. Directed by Adam Wagner, the Patel Conservatory version of Kiss Me, Kate will feature 24 performers, period costumes, wonderful sets and live music.
The students are getting so much more than performance experience, Wagner says, adding they have been putting in 17 hours a week in preparation, beginning in early September. Because the Kiss Me, Kate cast is enrolled in the PCYT class, no matter what role they have in the show, they will come away with so much knowledge. Cast members have memorized Shakespearean monologues to help them prepare for future auditions, they've learned Porter songs and the history of his life and more.
"Kiss Me, Kate captures everything that can go wrong in life, in love and in the theater and spins it into a tarantella of comedy.  It's a Shakespeare musical comedy mashup," said Ami Sallee, Patel Conservatory theater department chair.
Kiss Me, Kate will run Thursday through Saturday nights at 7 p.m. with Saturday matinees at 2 p.m.  Regularly priced tickets, now through Sept. 22, start at $10. Beginning Sept. 23, regularly priced tickets start at $15. Tickets may be purchased by calling 813.229.STAR (7827) or 800.955.1045 outside Tampa Bay, in person at the Straz Center Ticket Office or online at www.strazcenter.org.
A Who Knew? discussion class for the public about Kiss Me, Kate will be held Tuesday, Nov. 13. The class will be taught by Stephen P. Brown, and will feature Wagner as the guest.
More information about Kiss Me, Kate, the Who Knew? discussion and other classes and programs offered by the Patel Conservatory is available at www.patelconservatory.org and by calling 813.222.1002.
Stay tuned for more Arts & Culture happening right here in Tampa Bay!