Hey Gang...we're back with more great things to do in Tampa Bay, for any age!  Today we are talking MOSI (that's the Museum of Science and Industry for those who are not from Tampa), which is the largest science center in the Southeast US.  I'll wait for the applause to settle...

Ok, this is just the first of a series of things to do at MOSI, so today we are talking about their Kids In Charge area.  Since it's hard to explain, here's a bried description from our friends at MOSI -

Kids In Charge! The Children's Science Center at MOSI is a uniquely designed space for children twelve and under. Based on cutting-edge theories about learning and skill building, Kids In Charge! emphasizes the value of learning through play by bringing together science, creative thinking and inspire the imagination.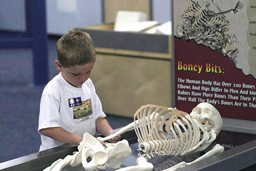 Instrumental in the development of Kids In Charge! was an advisory board of 26 children. Board members were between 10 and 17 years of age and they were responsible for providing guidance and planning for Kids In Charge! The Science Center at MOSI, conducting audience research, planning and hosting special events, and providing feedback and ideas on space, exhibit, architectural design, programming, and fundraising.

With a total size of 40,000 square feet, including 25,000 square feet of exhibit space, Kids In Charge! is the largest children's science center in the country.

Now that you have that description, I can tell you that I was there yesterday, and I'm certainly over the age of 12, and I had a BLAST there!  Between the interactive games and fun things, I could have spent much more time there! 

But, for a complete list of activities, not to mention more details about the area itself, visit the MOSI Kids in Charge website, HERE. 

And, stay tuned as we bring you other great things to do in Tampa Bay, including the new Bodies exhibit at MOSI, as well as tons of other cool things they have there. 

Until next time, the Kids are in Charge!!!!!