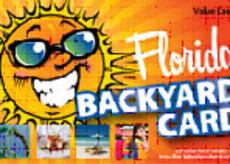 Hey everyone!  Travis here with some info that you need to have.  VISIT FLORIDA (The state's tourism marketing organization) just came out with the BackYard Card so that everyone can help support the local tourism industry in Florida! 

Today, Florida Governor Charlie Crist joined businesses, chambers and associations from across the state to launch Florida's Backyard Card incentive program to give Floridians another good reason to get out and support their local businesses.
 

The Backyard Card program is a powerful marketing tool which VISIT FLORIDA members can leverage to grow their business. Any Hot Deal VISIT FLORIDA members have flagged for Florida Residents will appear on FloridaBackyardCard.com and www.VISITFLORIDA.com.  Details about the Hot Deal will then appear on the Backyard Card website and will include a promo code and contact information.

What does this mean for you?  Well, if you are a Florida resident and you are considering visiting another Florida destination (and I hope it's Tampa Bay), then there are a ton of great deals on there for you.  And if you are a VISIT FLORIDA member, then you can put your great deal up for everyone to see.  It's a win-win for everyone!!!!

To get more info, log on to www.BackyardEconomics.com. 

Ok, done with that update.  Stay tuned for more Tampa Tourism information, plus updates about great things to do in Tampa Bay!