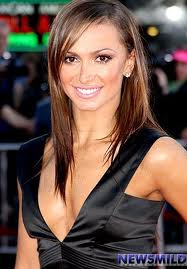 Hey everyone!  Travis here with some information that will most definitely interest many of you out there - epsecially the dancing enthusiasts!  Dancing With The Stars professional dancer and Playboy cover model Karina Smirnoff will be a guest judge at the Millennium Dancesport Championships, being held June 23-25 at the Tampa Marriott Waterside Hotel & Marina.
Here's a quote from her about the event and Tampa - "All the stars of dance come together at Millennium. It's such a glamorous celebration of the beauty and art of dance and it's one of my favorite events to attend. I hope everyone comes to see it!"
The Millennium Dancesport Championships is a world-renowned event drawing top competitors from across the globe. Also, the shows on Friday and Saturday nights star an unprecedented five world champions showcasing their different winning styles.
This year, the décor takes its inspiration from the movie Burlesque and the stage will be transformed into an ultra chic boudoir.  More than 1,700 dancers are expected to compete in the Millennium Dancesport Championships, and over the five days dancers will vie for $125,000 in cash and prizes.
Day and evening tickets are available and seating is limited.  Day sessions are from 9 a.m. to 5 p.m., and evening sessions are from 8 p.m. to midnight.  Tickets are: Day Sessions: $25 per day; Tuesday evening: $25 & $50; Wednesday and Thursday evenings: $50 & $100; Friday and Saturday Evening: $70 & $150. 
Reservations are required and tickets are available for purchase at 863-668-9668 or emmaoswald@aol.com.  For more information, visit www.m2dance.com.  And we'll be bringing you more information so stay tuned!  And of course keep checking back here for more great things to do in Tampa Bay and other Tampa Bay area events.