Linda Mu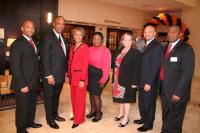 mmert here reporting on great convention news!  Our own Sherri Brown, National Sales Manager with Tampa Bay & Company and Susan Williams, Director of Convention Services along with a number of key Kappa Alpha Psi Fraternity alumni travelled to Norfolk, VA to present the City of Tampa's bid for their 2017 Grand Chapter Meeting.  In attendance, Les Miller, Hillsborough County Commissioner, Kappa Alpha Psi member, his wife Gwen, President of the Silouettes (Kappa Alpha Psi women's division), Eric Blanc, Director of Sales and Marketing at the Tampa Convention Center, Cedric McCray, Polemarch of Tampa Alumni Chapter and Allen Thompson, Vice Polemarch of Tampa Alumni Chapter.
Tampa was one of four cities selected to make a presentation.  Orlando, Baltimore, and Philadelphia were the other three.  The Grand Chapter Meeting is scheduled for July 26 through August 7, 2017 with total room nights of over 8,000 and attendance between 2500-3000 is expected.  
 
We should be notified of the Board's decision sometime this week.  We look forward to welcoming the Kappas to Tampa in 2017! That's all for now, but stay tuned in for more updates on Tampa Bay meetings!