Hi Tampa Bay, Alex here to start the new year off with some fun news for all of you Lego fans!

Junior FIRST LEGO League Teams in Florida will be exhibiting projects at MOSI this Sunday, January 8, 2012 from 1:30- 4:30 p.m.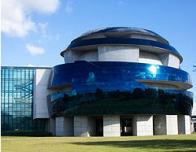 This year's theme is Snack Attack. Come take a look at the amazing work created by the  young LEGO Engineers. You will also learn about Food Safety and the art and science behind   LEGO.  In addition, FIRST teams in all age groups will be showcasing their robots and    research projects.

While you are ay MOSI this weekend, you shoudl visit MOSI's Idea Zone! and design and construct projects with various LEGO elements. Guests will have the chance to make lego-type objects out of MOSI's 3D-printer & plastic injector mold and vinyl decals. 
  
Enjoy a Sunday at MOSI, while you enjoy some LEGO fun!

Check back with us throughout the week for information on Things To Do in Tampa Bay!