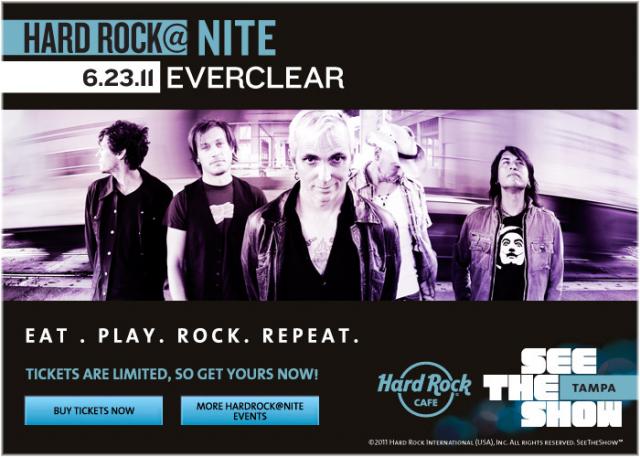 Hey everyone - Travis back with a really quick update about some Tampa Bay area events at the Hard Rock Hotel & Casino, which means you'll definitely want to be there! 
On Tuesday, June 14 – it's the 40th Anniversary Day, and Hard Rock Cafe Tampa staff will dress in 1970 styles, so there'll be some photo opportunities!!!  And to top it off, there'll be $3 "Hard Rocker on Acid" shots and $3 "Special Brownies."  And let's face it, who wouldn't want either of those!!!
On Thursday, June 23 - it's the Everclear Concert at the Hard Rock Cafe.  If you haven't been to a concert here, it's about time so get your tickets!  Doors open at 9p.m...and it's $28 general admission/standing room only.  Believe me, it's worth every penny! 
On Sunday, June 26 - Grand Prize drawing for a trip for two to London's 2012 Hard Rock Calling music festival. Do I even need to say more about this???!!!  It's $400 for grand prize winner and three finalists.
So, make your way to the Seminole Hard Rock Hotel & Casino and get ready to have a good time.  And keep checking back here for more great things to do in Tampa Bay.