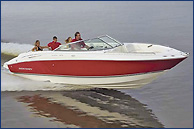 Hi everyone.  Travis back with more Tampa Bay Entertainment options for you.  The Florida State Fairgrounds in Tampa hosts TONS of events each year, and June is no change.  They have several things going on this month, and here's just a taste:
From June 17-19, one of the premier boating events will hit Tampa Bay, at the Florida State Fairgrounds.  Times Publishing presents the Tampa Bay Boat Show, and guests will have three full days to explore and compare all available makes and models.
There'll be millions of dollars worth of inventory (literally), all in one location, so you HAVE to come see it.  And no matter what you're in the market (or not in the market) for - big boats, little boats, and everything in between - you can be on the water before the weekend is over!
Here's the cool part - admission is FREE!  But, parking is $5 per Car or $10 per RV or Bus, but that's still not bad, especially if you carpool!  The hours are Friday & Saturday 10AM - 6PM and Sunday 10AM - 5PM, and it all takes place in Expo Hall!  Make sure you enter through the US Highway 301 gate at the Fairgrounds, and head over to www.tampabayboatshows.com for more information. 
Have fun everyone, and we'll see you back here for more great things to do in Tampa Bay.