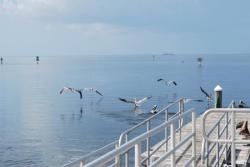 Just 20 minutes from Tampa's downtown, and 3 miles north of Ruskin, EG Simmons park is one family friendly experience you won.t want to miss out on!.

To some this is a just an ordinary county park, to endangered wildlife such as the manatee, Bald Eagle and the Roseate Spoonbill, its considered home.
E.G. Simmons is a known vacation destination for many families since the mid- 1960's because of its camping sites and natural preservations.
Native Mangroves cover more than 250 acres of the park (200 acres is preserved for the wildlife sanctuary), followed by open landscapes and a BEAUTIFUL beach; what else could anyone ask for?

There are tons of things to do while visiting the park such as taking a swim at the public beach, salt water fishing, camping (electrical hookups and waterfront camping sites), grilling, hiking, canoeing (launches and rentals), beach volleyball and hiking.

Are you are looking for family fun? Then load up the car and then head to EG Simmons Park, it's worth the experience! That's all for now, but stay tuned in for more family friendly things to do in Tampa Bay!