Happy Friday Tampanians!!  Jessica here with some exciting Tampa Bay Entertainment news!  Girls, you better brace yourselves for this...
The JONAS BROTHERS World Tour 2009
is coming to
Tampa
!!!!!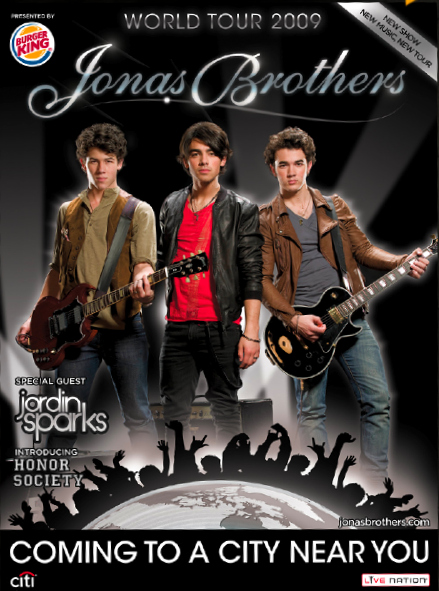 That's right, in less than 3 weeks... the superstar trio, Jonas Brothers, will be making a stop here in Tampa on their World Tour 2009 (which will also be taking the band to three continents!)  This tour, presented by Burger King, will be coming to the
St. Pete Times Forum
on Tuesday, August 18.  But that's not all ~ the Jo Bros will also be joined by special guests, Honor Society and American Idol's own, Jordin Sparks.
"The Jonas Brothers World Tour 2009" will present the band's most ambitious production yet and will include a massive 140-foot stage centered in the arena that aims to give fans a closer, more interactive, live concert than ever before. 
The show will feature cutting edge technology used in a one-of-a-kind circular screen, multi-color laser effects (wow!), motion automated video screens, a giant crane, and... well I'll stop there, beacuse I don't want to give away ALL the surprises!!
But since I want all of YOU to enjoy great Tampa Bay events like this one... I'm letting you know about a great deal -- from now until August 17 at noon, the St. Pete Times Forum will be offering a special ticket package. "The Channelside Club" for $100 includes a guaranteed seat so you can sing along and be sure to see all the action in addition to a themed buffet with beverages!
Anyone interested in this exclusive offer must call or e-mail with credit card numbers, expiration dates, and number of tickets desired.  You will also be required to leave a name for the Will Call booth (in order to pick up your tickets the day of the event).  Like I said, the deadline is August 17 @ noon, unless tickets sell out earlier... so I suggest moving quickly on this show!  Contact Christ Duffy with the Forum at cduffy@sptimesforum.com or call 813.301.6812 for more information or to order your tickets.
I'm sure we'll have more to follow about this awesome Tampa Bay area event, so stay tuned.  For up to date Tampa tourism and things to do in Tampa Bay be sure to become a fan on Facebook @ www.Facebook.com/VisitTampaBay!!!