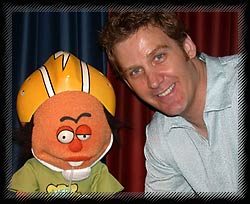 Hey gang...Travis back with some amazing Tampa Bay entertainment for you.  Comedian Jim Florentine (aka Crank Yankers' Special Ed) is going to headline at the Seminole Hard Rock Hotel & Casino on Monday, March 8!  Here are the details:
If you hate telemarketers, you might just love Jim Florentine. In 2001 the comedian released his CD, "Terrorizing Telemarketers Volume 1" and after it played on the Howard Stern Show it shot to number two on the Amazon.com CD list.
The CD features a series of recorded telephone conversations, often with Florentine receiving calls from those pesky, aggressive telemarketers on whom he quickly turns the tables by being deliberately, and hilariously difficult.
Florentine will appear in Seminole Hard Rock Hotel & Casino's state-of-the-art Event Tent on Monday, March 8 at 8pm!  Tickets are only $20 at the Hard Rock Shop and all Ticketmaster outlets. Oh, and the doors open at 7pm.
Jimmy Kimmel and Adam Carolla liked his prank calls so much they hired Florentine for their then new show "Crank Yankers", on Comedy Central. Florentine's characters, Special Ed and Bobby Fletcher became a hit. So much so that Eminem mocked beating up Special Ed on the MTV Music awards show in 2004. The character is still played at various sporting events across the country to fans' delight.
So, make your plans to be out there and enjoy the show.  And as always, keep checking back here for more great things to do in Tampa Bay, and other Tampa Bay area events.