I don't know about the rest of you guys, but I am an emotional wreck! What a game that was, and we almost had it if not for a dubious call from the officiating crew. As upset as I am about the call, I want this blog to focus on the great game!
It was definitely not the desired outcome for the USA going into halftime as they walked into the locker room down 2-0 in a first half completely dominated by the Slovenians. First half goals by Zlatan Ljubijankic and Valter Birsa, had USA fans with their heads in hands and thinking it would be a long day.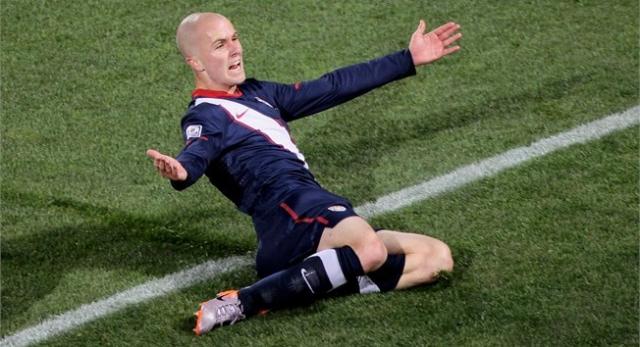 But I guess Coach Bradley lit a fire under the team at halftime as they came back out firing with Landing Donovan pulling a goal back in around the 49th minute.
We took the initiative in the second half and were able to fight back with an 82nd minute Michale Bradley goal that tied the game up at 2-2, at which point I think I may screamed so loud that the entire office hear me!
I think we all have our own feelings about the disallowed goal at the end, but lets not let that overshadow the great effort and grit it takes to fight back from a 2-0 deficit and almost take the game! 
Major pat on the back to Coach Bradley, his staff and the US team for a great fightback. I think we all realized how emotional and great this game is by watching today's match. I actually saw a guy in the stadium with a face full of tears when the US equalized and that about sums up World Cup Soccer!
I can only imagine what it would be like to witness that kind of emotion first hand, and to think there is a chance we here in the USA as well as Tampa could potentially be World Cup 2018 Host, or possibly even host the games in 2022! The only way that is going to happen is if we all go to
www.GoUSABid.com/TampaBay
and show our support for the USA Bid by signing the on line petition!
Oh well, guys, have a great rest of the day and be sure to check back for more FIFA World Cup soccer news from Jerm and the rest of the Tampa Bay team!