Hello everyone! Jerm here and I am in the Holiday spirit this week, so I feel like giving something away to my blog and Twitter family! Don't worry, for those of you that were naughty this year you still have a chance to win, as I am not as picky as Santa Claus!
Our friends over at
Event Show Productions
, Inc. will present the premier of the much anticipated
HOLIDAY INC
. December 18-20, at the historic Friday Morning Musicale in South Tampa's Hyde Park! Dorene Collier, President of Event Show Productions, in collaboration with professional writer/director, Jonathan Van Dyke, have put a ton of work into this over the past year with it being their first full-length theatrical collaboration production!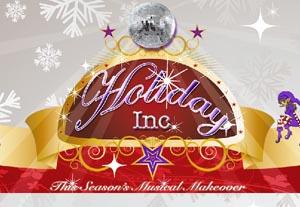 Believe me when I say this show is going to be filled with all of the dazzling effects, stunning costumes, Broadway-caliber performers, love able characters, high-energy dance numbers, and a chart-topping song list, you've been accustomed to seeing Dorene and her crew of performers! As far as things to do in Tampa Bay this weekend, this may very well be your hottest ticket!
Now, me being as awesome as always, I am giving away to tickets to see the live premier this Friday! All you gotta do is answer some trivia for me and be the first one to do so!
Its been a while since we did a giveaway, so here are the rules again, just in case you forgot...1 - You have to be following us on Twitter.com (
www.VisitTampaBay.com/Twitter
); 2- Answer two questions about Event Show Productions  3 - You have to re-tweet the original tweet in order to be eligible to win (a lot of people forget this one, so make sure you re-tweet separately); and 4 - You have to answer the question(s) on Twitter and be the first to do so correctly.
Name two of the three regional productions Jonathan Van Dyke has directed.
Name the cast member of Holiday Inc., who is also a dance Coach at the University of Tampa.
That's all you gotta do! I'll announce the winners later this evening so be on the lookout to see if you won! In the meantime, be sure to clear your Friday night for this one folks, and
click here
to purchase tickets and feel free to catch this
sneak preview
of one of the many performances you'll see!
In the meantime keep checking back for more updates on Tampa Bay area events from your Tampa Bay team!