Well good morning all! Jerm here to tell you about my weekend, well at least one part of it, as the rest of it was spent either sitting on the couch watching football, or just being lazy!
Now with all of the places in my lifetime that I have traveled, and all of the cuisine I have sampled, I have never actually had Fondue. Yeah I know what you are thinking, and you would be correct to assume that I have been living under a rock for the past 29 years or so! As I get a little bit older (I'll be 30 at the end of this month), I am trying to get myself out there and experience all that I have yet to, and trying out some Fondue was near the top of that list!
And here in Tampa, what better place to "Do the Due"... Fon-Due that is than at the
Melting Pot of Tampa
! Now there are plenty of locations across the Tampa Bay area with restaurants in Oldsmar, Tampa, and St. Petersburg, but we headed out to the Carrollwood location just off of Dale Mabry Hwy.
I must admit that cooking my own food was a thought that scared me at first, given that my idea of cooking at home is bag stir fry from my grocer's freezer (Thanks Publix Grocery Stores), but let me tell you that it really is a cool experience!
We decided to go with the 4-course Fondue meal, and to kick things off, we headed straight for the Spinach Artichoke Cheese Fondue, which features Fontina and Butterkäse cheeses, spinach, artichoke hearts and garlic.
I am a big Spinach Artichoke fan, so this was right up my alley! This came with breads, veggies and apples for us to dip into! See the pic to the right to give you some idea, but i will say the photo doesn't do it justice.
After the Artichoke, we had some salads, and I would have taken a picture of those, but we scarfed them up before I I could get a pic of them, and this was a common theme for the evening! Just take my word for it that they were tasty!
And on to the entree we went! After some
browsing on the menu
, and discussion about how we were going to walk after eating all of this, it was decided that we would go with the "Fondue Feast" which consists of Filet Mignon, Chimichurri Sirloin, Garlic Piri Piri Shrimp, Mole-Marinated Chicken Breast, Citrus-Marinated Pork Tenderloin, Fire-Roasted- Corn-Salsa Ravioli. Yeah I know what you're thinking... Yum yum, I want some!
The experience of cooking your own food was cool, and the cuts of meat were in great proportion as well. If you decide to get the same thing we had, I would recommend the Coq au Vin cooking style to compliment the assortment of meats, or if you are unsure just ask your server as they are more than willing to help you make the decision!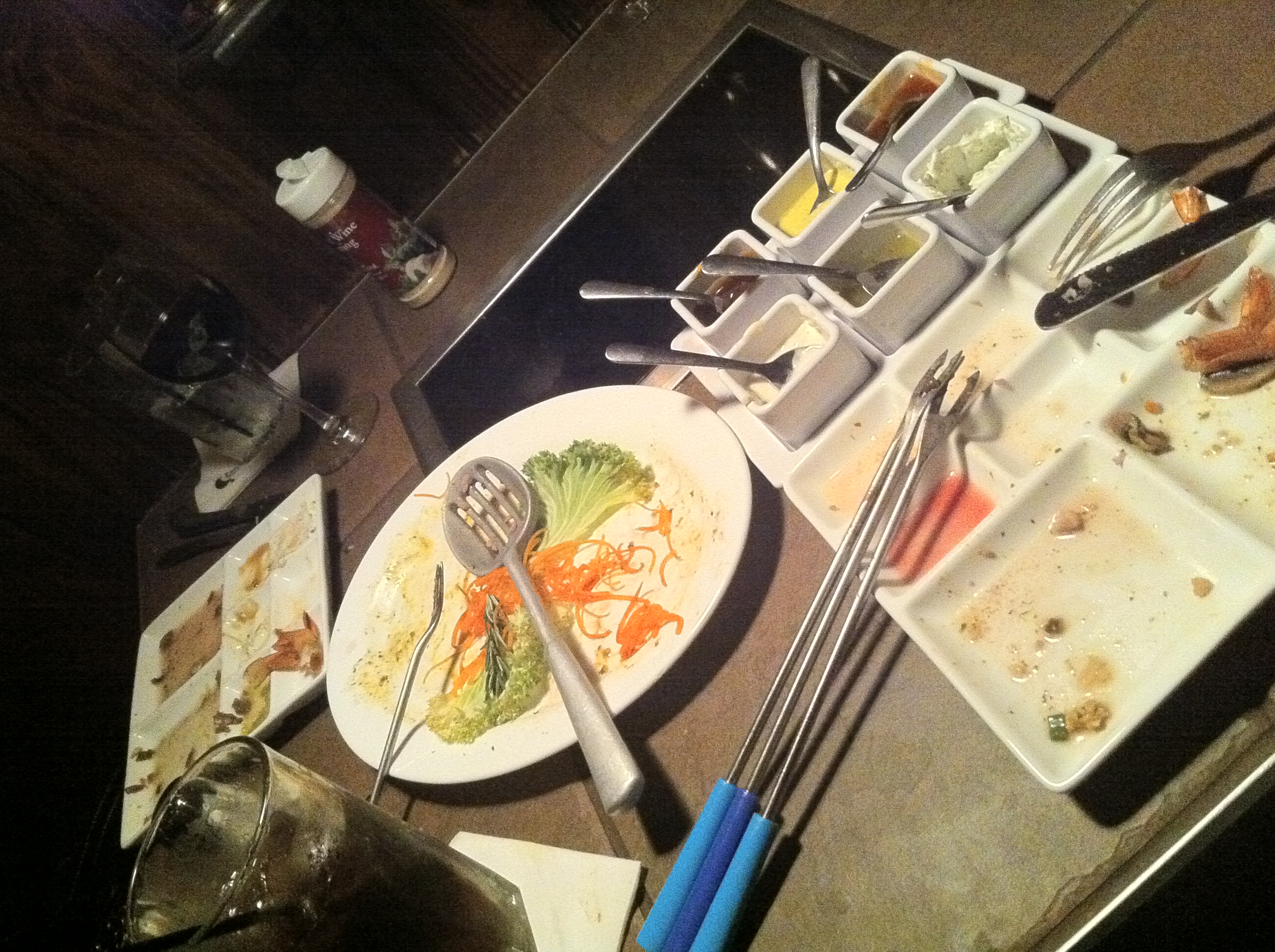 Once we were done with the entree, we went on to
dessert
and we decided to go with the Flaming Turtle, which consists of Milk chocolate, caramel and candied pecans flambéed table-side as the sauce.
We had a plethora of treats to dip with such as strawberries, cheesecake, pound-cake, marshmallows, and brownies!
As you can tell in the picture to the left, by the end of the evening we were beyond full!
For those of you who were like me and had not tried the fondue experience, you really have to go. Now you don't have to do like we did and order a four course meal, as you can easily just go and do the desert thing or just have the cheese fondue, as the best thing about all of this is that its customizable!
Well folks, that's my story and I'm sticking to it folks! Melting Pot is awesome and when you go by there, be sure to tell'em Jerm sent you!
That's all for now folks, but be sure to stay tuned in for updates on Tampa Bay dining and things to do in Tampa Bay!