Well the title says it all gang, jerm here with a little Tampa Florida news for ya! Jerm has an intern now to help him with all of his daily job responsibilities in making sure we continue to bring you the latest and great technology updates on our website. She will also be contributing to a few of the blogs, mainly this one and the lifestyle portion as I currently do now.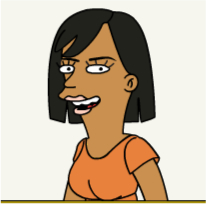 Christina is a recent graduate at my Alma Mater, The University of Tampa where she majored in Advertising & Public Relations. Now I know you are thinking...Jerm , but she doesn't have any Internet background! Well that is the beauty of my Alma Mater, in that our graduates are extremely well rounded.
Christina happens to be proficient in a few programming languages, as well as having digital media project management experience and even a  little design work in her background. Having said that, you guys had better enjoy your time with Jerm while you can, as at this rate she will have my job in a bout a year or so!
Christina will have plenty of things to keep her busy while she is here, so plan to hear allot from her as she will share this blog with me, update web content, as well as numerous other projects!
Everyone say hi to Christina and wish her luck...not that she will need it!
Well that's all for now, so stay tuned for updates on things to do in Tampa Bay and posts from Christina!