Hello there everyone, Jerm here to tell you about a new Tampa Bay dining spot I was fortunate enough to visit yesterday. If you don't read our blogs regularly, one of our bloggers
Lauren wrote about
this new Tampa hot spot a while back when Executive Chef John Saxton was recognized by "Positively Tampa Bay" for his southern culinary holiday traditions!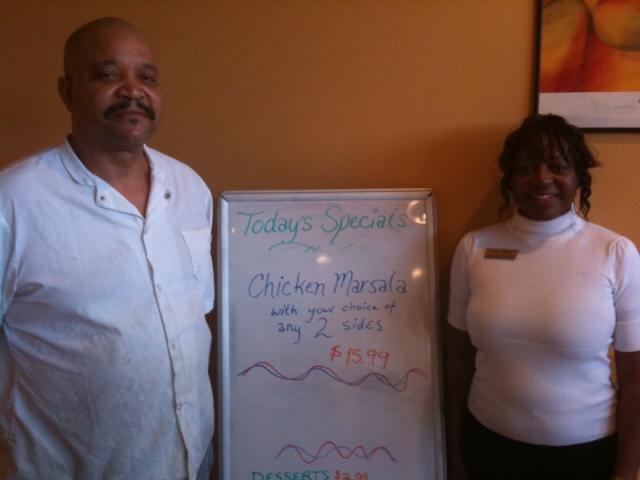 Well yesterday I was actually able to go out and experience the
Urban Culinary Cafe
for myself, and believe me when I say it is southern cuisine at its best, if not better! Owners Rose and John Saxton make you feel at home, right when you walk in the door, as its almost like you are family.
After sitting down and talking with Rose about all the great items on the menu and how they go about serving their customers, it was time to get down to business and get some grub.
I had skipped breakfast that morning, as I wanted to be good and hungry when I came in, so onward to the menu I went. There was a total of five of us there so it was important to get a good feel for the cuisine, so I think we all actually ended up ordering different items on the menu.
Since a picture is worth a thousand words, I will let my pictures of our food do the talking for us. Here is the breakdown for what the five of us ordered.
Now if you can't tell by the pictures, these are very generous portions, so much so that even though I ate a ton, I had enough leftovers to have for dinner last night! And its even cooler that with all of the food that I ate, I didn't feel overwhelmingly full, which is a testament to the style in which they go about cooking the food. It has that southern cuisine you are looking for, but is at the same time on the healthy side.
Unfortunately we didn't have time to check out dessert as we had to get back to the office, so I am depending on you guys to go try it out and report back to me. In the mean time,
check out the menu
. Whether its dine in, take out, catering, or live jazz music while you eat, you can't really go wrong at the Urban Culinary Cafe!
That's all for now folks, but be sure to check out more food & dining related things to do in Tampa Bay!