Hi Tampa Bay, Alex back to let you know about a fun event for the entire family taking place at Patel Conservatory this December.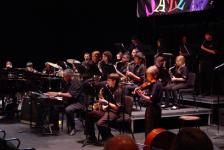 Jazz Jamm will be held on Wednesday December 7, 2011 at 7 p.m.
  
Students from the Patel Conservatory's Jazz Ensemble and Adult Vocal Jazz Ensemble will come together to perform in this impressive jazz concert, under the direction of James W. Crumbly, Jr.

Regularly priced tickets start at $8. Beginning Nov. 22, regularly priced tickets start at $12 and may be purchased by calling 813.229.STAR (7827) or 800.955.1045 outside Tampa Bay, in person at the Straz Center Ticket Office or online at www.strazcenter.org.

Enjoy the show! Check back with us often for more information on Arts and culture in Tampa Bay!