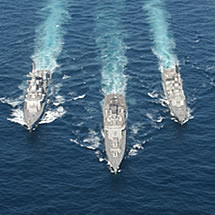 Hi everyone...Travis back with some really cool news about some Tampa Bay Entertainment.  The The Japanese Maritime Self Defense Force will be arriving in Tampa (the Port of Tampa) on July 25 and staying until July 28! 
Three ships from the JMSDF will stationed at the Port of Tampa from July 25-28, 2011.   A stop in Tampa Bay is part of the Training Squadron's five-month training cruise, where they will also visit Anchorage, AK; Seattle, WA; San Diego, CA; San Francisco, CA; Norfolk, VA; and Pearl Harbor, HI. Plus, these ships include approximately 800 personnel, including 200 newly commissioned officers. 
Throughout their stay, the Tampa Bay community can experience these magnificent ships, along with their crew, at a variety of events and community activities, including receptions, a family host program, local concerts and even the opportunity to board and tour one of the ships.  Just log on to www.VisitTampaBay.com/JMSDF for more information. 
And keep checking back here for more great things to do in Tampa Bay and other Tampa Bay area events.