Hi Everyone, Alex here to let you know that Janet Jackson will be performing in Tampa this December!!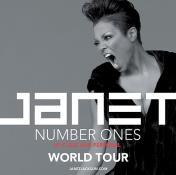 Janet Jackson will perform in her Number Ones, Up Close and Personal Tour on December 4, 2011 at David A. Straz Jr. Center for the Performing Arts.

Don't miss this unforgettable performance by Janet as she sings hits exclusively from Number Ones.

Tickets go on sale Saturday, Sept. 17, at 12 noon.  Regularly priced tickets start at $59.50 and may be purchased by calling 813.229.STAR (7827) or 800.955.1045 outside Tampa Bay, in person at the Straz Center Ticket Office or online at www.strazcenter.org.
 
Get your tickets this Saturday... Don't wait until they are all sold out!

Have a wonderful evening and check back with us often for updates on Things to Do in Tampa Bay!