Wow, I guess I gave the reason for this blog away huh! Well I can't help it gang as I and many others will be flocking to the
Tampa Bay Performing Arts Center
this Monday to see Grammy Nominated and Academy Award Winning actor Jamie Foxx perform on his 50-city
Blame It Tour
.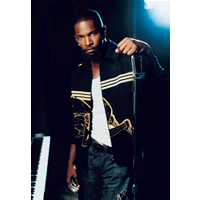 Foxx will take the stage on the heels of his his chart-topping CD
Intuition
, for an evening of live music and Tampa Bay entertainment you are sure to enjoy!
I myself am a big fan of Jamie's music and have purchased the last two albums, so you can bet your tail that Jerm will be in the building Tweeting live and giving you updates!
Not only will Jerm be in the place, but I would also like to give a shout out to our
Twitter
and
Facebook
contest winners who each won two tickets to the show yesterday!
For those of you who played along and didn't win, you can still catch the show as
tickets are still on sale
, so what the heck are you waiting for. If you miss out on this one then you won't have anyone to "Blame" but yourself! Get it..."Blame"... okay so it was a lame joke, but you get the point!
Well gang, this is Jerm signing off for now, but I hope to see you all out there on Monday at 8pm. We need to show Jamie how Tampa Bay gets down, so come out and be sure to make plenty of noise!
Until then, stay tuned for more Tampa Bay area events and things to do in Tampa Bay!
Intuition was released on Dec. 16, 2008, and debuted at No. 3 on the Billboard 200 chart. The first single off the album, "She Got Her Own," rose to No. 2 on the Billboard Hot R&B/Hip-Hop Chart. The second single, "Blame It," hit No. 1 on the Billboard Hot R&B/Hip-Hop Chart. Intuition also features an impressive list of artists such as T.I., Lil Wayne, Kanye West and Ne-Yo.